Cruise Planners is a full service travel agency specializing in group travel, and land or sea vacation experiences.
Your perfect escape is our goal. Whether you know exactly where you want to go, or need some inspiration we are here to guide you, and to create a journey that will surpass your expectations! Collectively, our team has over 40 years of experience in the premium travel industry, and we are constantly circling the globe to provide you with personalized destination knowledge and experience. We'll see to it that every detail is arranged and handled completely with expert guides, on-the-ground spontaneity, and the perfect place to relax at the end of the day. Our team is not only committed to providing you with an unforgettable and inspiring trip, we're also committed to ensuring your happiness and comfort throughout. When you travel with us, you can feel confident knowing we are always available to ensure that your journey is seamless, authentic, and beyond what you had imagined.
For more information call 772-905-3338 or email debbie.wegner@cruiseplanners.com today!
Business Hours:11:00 AM to 6:00 PM or by appointment.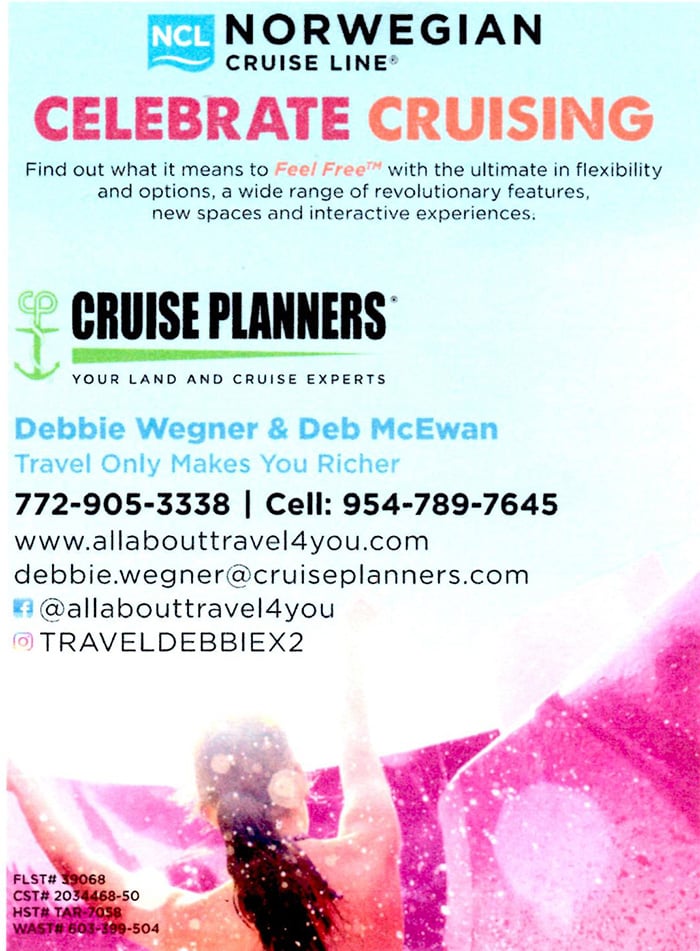 Cruise Planners is a proud sponsor of Macaroni Kid Stuart
Business Review
"Booking with Cruise Planners has been the most simplistic and informative process I have ever experienced. Debbie was available at the last minute to make an important document change because of a blunder on my part. I know we bypassed headaches and stress because Debbie worked directly with the cruise line on our behalf. Having piece of mind when you are overseas is worth every penny and more. Customer for life." ~ J.S.