Summer 2023
Junior Lifeguards Camps are a perfect balance of education and fun. Camps are held all ten weeks of Summer break. Our week progression of education and fun consist of learning to surf, beach and ocean orientation, surf survival, lifeguard skills, first-aid and competition.
Fun
Juniors will learn to surf through a crawl, walk, run approach. After lunch Juniors will be broken up into three groups. Each group will rotate through three stations. At the ocean swimming station (crawl) juniors will acclimate their body in the ocean by ocean swimming and body surfing. At our prone paddle boarding station (walk) juniors will learn how and get reps on effective paddling techniques. Paddling makes up approximately 90% of surfing and must be mastered to surf on their own. Juniors will learn how to paddle towards and into breaking waves. At our surfing station (run) juniors will put it all together on our surfboards. Juniors are assisted in this station, however, quickly encourage to paddle into waves with their own paddle power. Teaching juniors to surf "down the line" is our surfing goal.
Beach and Ocean Orientation
Junior Lifeguards will orientate themselves to the beach environment using a situational awareness exercise every morning learning to recognize and mitigate present risk on the beach and in the ocean. Juniors will learn how waves are created and the effect they have on shoreline topography. The anatomy of a rip current will be broken down to give Juniors a complete understanding of the mechanics and how to use it when surfing and how educate their friends and family to survive it. Juniors will become familiar with fixed rip currents created by sand bars and permanent rip currents at their local inlet jetties and piers.
Surf Survival
Junior Lifeguards will learn how to safety enter the ocean, negotiate shore break and in coming waves through the "inside" of the surf zone. Rip current survival techniques: treading water and floating on their back will be taught. Surf crafts are introduced going over all aspect of design how not to get injured by it. Self rescue techniques are taught i.e. board rescue and/or roll to assist a surfer in need and surf leash removal due to entanglement.
Lifeguards Skills
Junior Lifeguards will learn the definition of drowning and what it looks like. Juniors will have fun learning about professional lifeguard equipment using rescue buoys, tube and boards to make rescues.
First-aid
Juniors will learn the importance of hydration and proper sunscreen application. Bleeding control will be demonstrated and learned by the use of direct pressure bandaging and tourniquets. After completing lifeguard rescue skills Juniors will learn to continue life saving with rescue breathing and CPR will the addition of an automated external defibrillator (AED).
Competition
Juniors will be introduce the international "Surf Lifesaving Sport." Every day one event of surf lifesaving competition will be introduced. Events included are: long distance run race, swim races, and paddling races on our prone boards. All event disciplines lead up to the "Iron Guard" event. Juniors will participant in this tri-event of running, swimming and paddling proving to themselves they have what it takes to be "Top Guard." Flags, a camp favorite will also keep these Juniors entertained.
Added benefits include FREE: Junior Lifeguards rash guard (with no advertisements) and a Sailfish Splash day pass.
An email will be sent out with what and what no to bring to camp.
NOTE: CAMP ATTENDANCE IS HELD TO 30 MAX CAMPERS PER WEEK.
Book early if you want specific weeks.
Popular weeks sell out.
Extra campers will not be squeezed into camp exceeding 30 max
---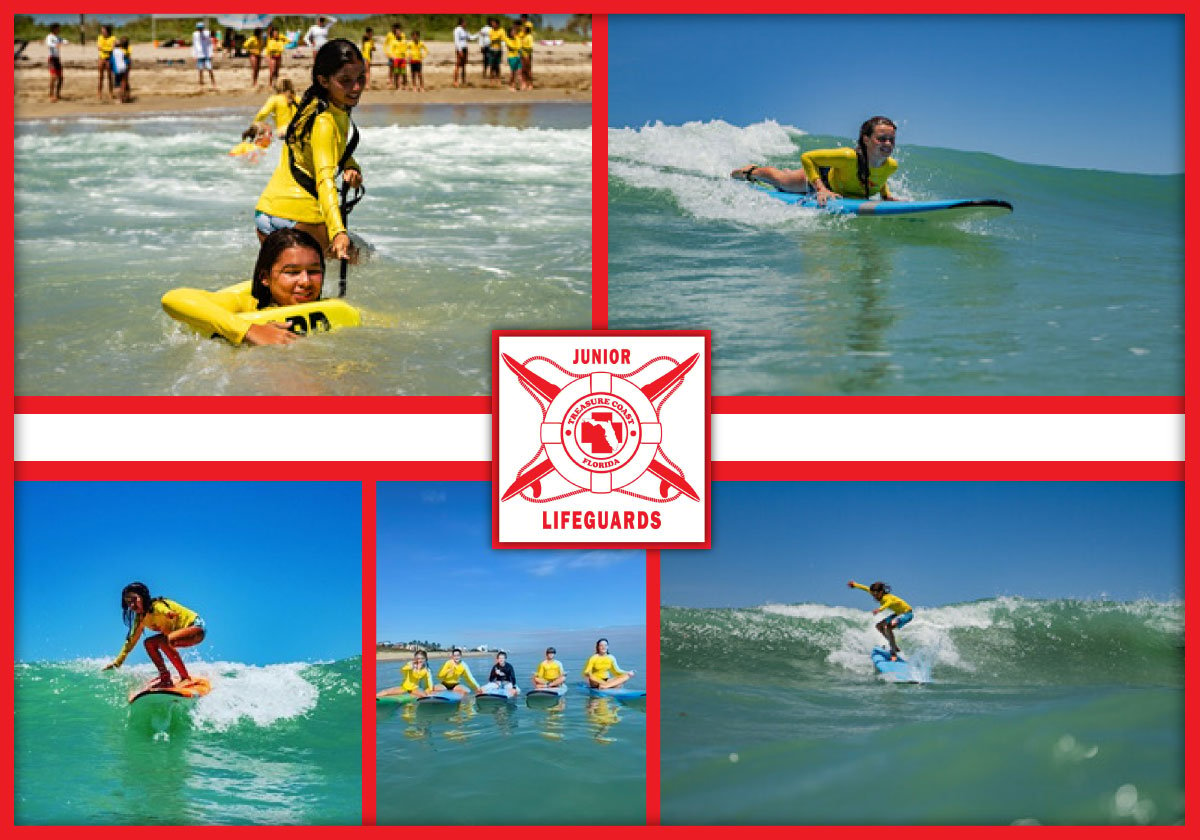 ---
Ages: 8 - 18 | Grades 3rd - 12th ( strong swimming ability)
Location: IMPORTANT: Please be advised, camps are held at local beaches. Locations may vary depending on camp dates and conditions. Information will be provided in advance for any changes in details.
Days: Monday - Friday
2023 Dates:
May 29th - June 2nd
June 5th - June 9th
June 12th - June 16th
June 19th - June 23rd
June 26th - July 30th
July 3rd - July 7th
July 10th - July 14th
July 17th - July 21st
July 24th - July 28th
July 31st - August 4th
Hours: 9:00 AM - 3:00 PM (Wednesday 10:00 AM - 4:00 PM)
Cost: $400 per week
Sibling Discount: None
Registration/Application Fee: $5.95 (Active fee)
Registration/Sign up Procedure: Register online - CLICK HERE to register
For More Information: visit https://juniorlifeguards.org/summer-camp, email TCjuniorlifeguards@gmail.com or call Josh at 772-485-5960
See more videos on Treasure Coast Junior Lifeguards YouTube Channel and please LIKE and SHARE!
Marine First Responders is a sponsor of Macaroni KID Stuart's 2023 Summer Camp & Activities Guide.