Every summer Marine First Responders host the Junior Lifeguards Summer Camp for youths 8-18 years old ( *8 years old if strong swimming ability) with a focus on building a strong foundation for water safety awareness, ocean behavior and respect for the marine environment combined with fun activities designed to build confidence, promote fitness and instill core values of teamwork and leadership. Camp activities and curriculum include: open water safety awareness, daily physical morning workouts (ocean swimming and a beach run), lifeguarding skills, ocean behavior, oceanography/environmental lessons, introduction to USLA competition games and water sports such as swimming, body surfing, body boarding, and SURFING. Added benefits include FREE: junior lifeguards rash guard and a Sailfish Splash day pass.
Campers should bring with them daily: lunch and a healthy snacks (fruit & nuts etc.); Sun protection: hats, sunglasses, sun screen, etc.; Dry personals: towels, dry clothes, shoes, etc.; Beach gear: beach bags, reusable cup etc.
Please DO NOT bring: Irreplaceable items (jewelry, electronics, etc.) or personal beach gear, such as boards, balls, scuba gear, etc.
NOTE: CAMP ATTENDANCE IS HELD TO 30 MAX CAMPERS PER WEEK.
---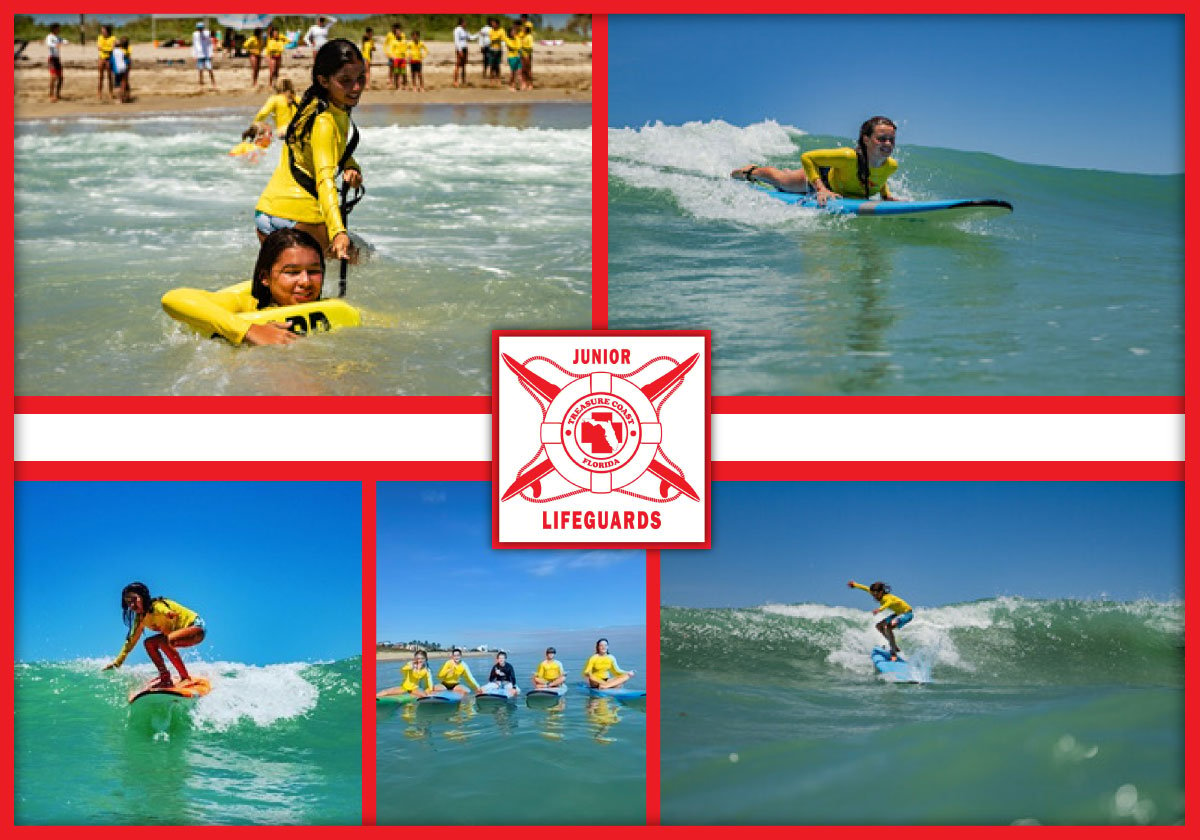 ---
Ages: 8 - 18 | Grades 3rd - 12th ( strong swimming ability)
Location: IMPORTANT: Please be advised, camps are held at local beaches. Locations may vary depending on camp dates and conditions. Information will be provided in advance for any changes in details.
Days: Monday - Friday
2022 Dates:
May 30th - June 3rd
June 6th - June 10th
June 13th - June 17th
June 20th - June 24th
June 27th - July 1st
July 4th - July 8th
July 11th - July 15th
July 18th - July 22nd
July 25th - July 29th
August 1st - August 5th
Hours: 9:00 AM - 3:00 PM (Wednesday 10:00 AM - 4:00 PM ) *earlier drop-offs and extended hours can be arranged in advance.
Cost: $350 per week
Sibling Discount: None
Registration/Application Fee: $5.95 (Active fee)
Registration/Sign up Procedure: Register online - CLICK HERE to register
For More Information: visit https://juniorlifeguards.org/camps, email TCjuniorlifeguards@gmail.com or call Josh at 772-485-5960
See more videos on Treasure Coast Junior Lifeguards YouTube Channel and please LIKE and SHARE!
Marine First Responders is a sponsor of Macaroni Kid Stuart's 2022 Summer Camp & Activities Guide.