Pediatric Therapy Connections is pleased to announce that it is offering a wonderful, new, series of music and movement classes called Sing 'N Sprout, beginning December 9, 2020. Just in time for the holidays, month of December will have your little ones hoppin' and boppin' to the Jingle Bell Jive!
Sing N Sprout classes focus on enhancing the overall growth and development of little ones. Classes are for children, ages birth to five years, and their parents or caregivers. Class meets four (4) times per month, on Wednesdays, beginning December 9th, from 10:30 AM to 11:30 AM, and the first class is FREE! After that, the cost is $45 for the first month, then $60 per month thereafter.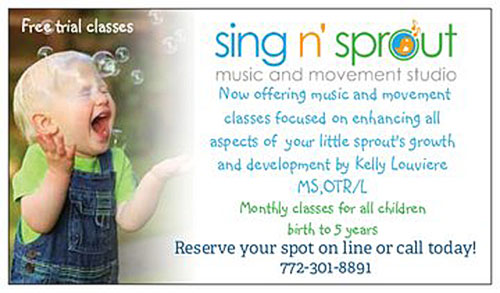 To join the fun, simply call 772-301-8891 and reserve your spot.
Sing N Sprout Classes take place at Pediatric Therapy Connections, 3328 NE Sugarhill Avenue, Jensen Beach 34957.
For more information, call Kelly Louviere, Owner, Pediatric Therapy Connections, at 772-301-8891, email kelly@ptherapyconnections.com, or visit https://ptherapyconnections.com/sing-n'-sprout. Follow them via the social platforms below to stay informed of new program offerings.