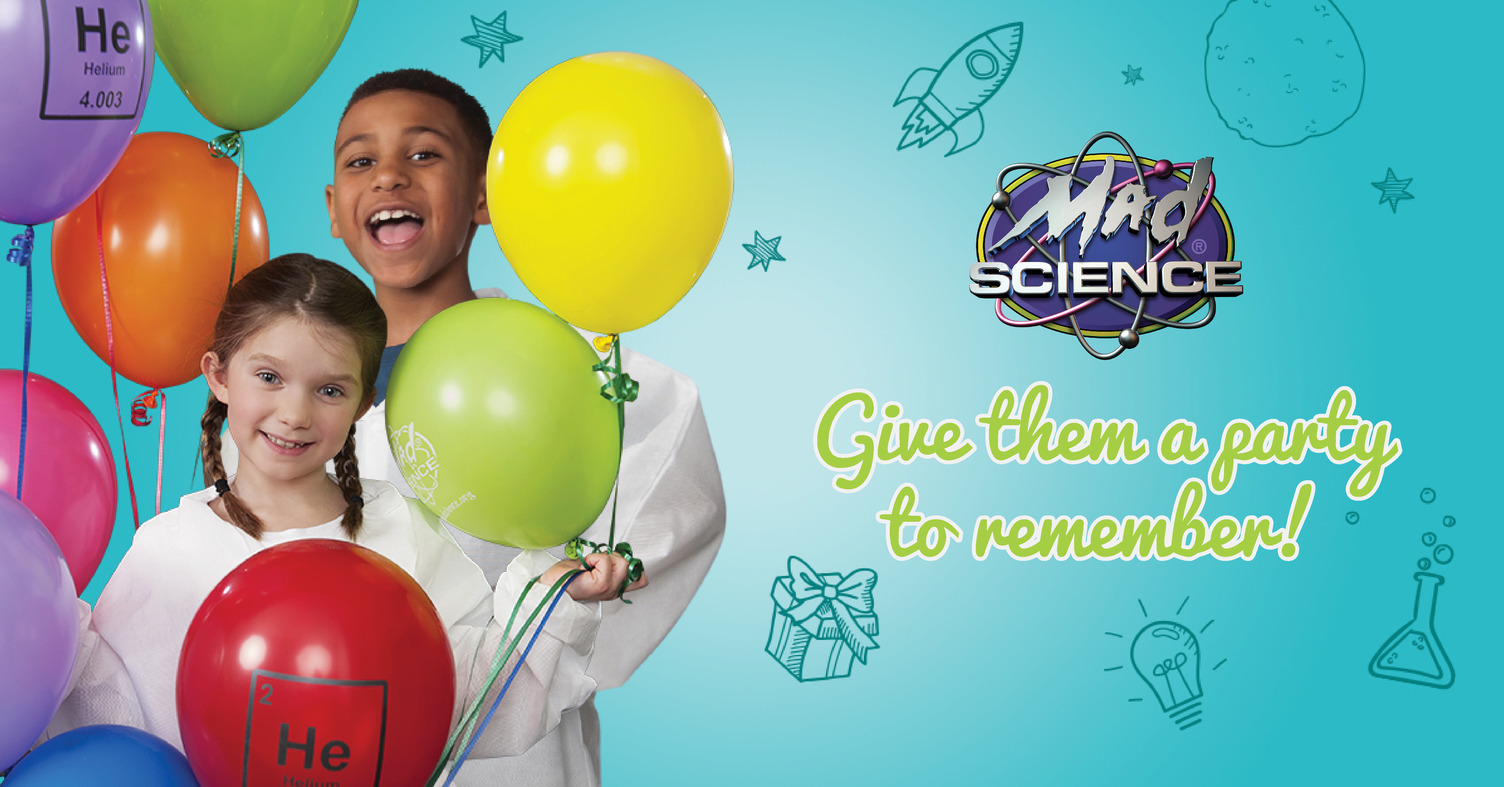 Mad Science of Palm Beach just celebrated our 10th Anniversary last month and we can't wait to celebrate with you at your birthday party! We now are offering our parties both virtually and in-person and even have a Super Sticky Slime Party, plus for mini-scientist, our Preschool STEM Party.
IN-PERSON PARTIES:
Our parties are filled with tons of fun! From the moment our Mad Scientist enters, the children will be engaged. Our high energy show will captivate everyone in the room leaving the children wanting to know more. Your child will feel like a star when we make them the Jr. Mad Scientist for the day, presenting them with our gift…their very own Mad Science Lab Coat! We end the party with all the children making their very own slime or putty to take home.
Our Super Sticky Slime Party is geared toward children turning 6 to 12. Mad Science has been making slime for over 20 years; now your birthday child and their guests will learn from our science experts. Each child is sure to find this party "so satisfying" when they join the Mad Scientist in learning all about polymers and make three specialized and different types of slime to take home!
If slime not your thing, no worries… our all-time-favorite parties featuring dry ice, hands-on experiments and so much more is the perfect fit. The birthday child and their guests have a chance to learn the difference between science and magic, play with polymers and forces, and tap into their inner scientists.
We even have an introduction to Science fun with our Preschool S.T.E.M. Party for children turning 4 and 5. This version of our party will keep the children entertained and learning. They will explore rainbows and dry ice bubbles all while belly laughing with the Mad Scientist!
All parties can be individualized using add-ons like cotton candy, rocket launches, our hovercraft rides, and Van de Graaff generators or by adding our Goody Bags and/or lab coats. Parties can be held at your home (outside only), clubhouse, or any location of choice (travel fees may apply).
Mad Science is following all safety precautions at this time. Our Mad Scientist will be wearing a mask and will be socially distancing for all in-person parties. We do require in-person parties be held outside, in a covered area, to ensure safety for all participants.
VIRTUAL PARTIES:
Mad Science virtual parties are hosted on a Mad Science Zoom secured account and may not be recorded. You may have up to 20 screens signed on, although fewer participants are easier for the birthday child to see their friends. Children are engaged with a LIVE Mad Scientist for the full 45 minutes ending the party with a hands-on experiment that all participants do together. Zoom link and supply list is e-mailed to the host parent once the party is booked.
Click here for more details and for pricing information.
Learn more by visiting palmbeachbroward.madscience.org or calling (561) 747-3033.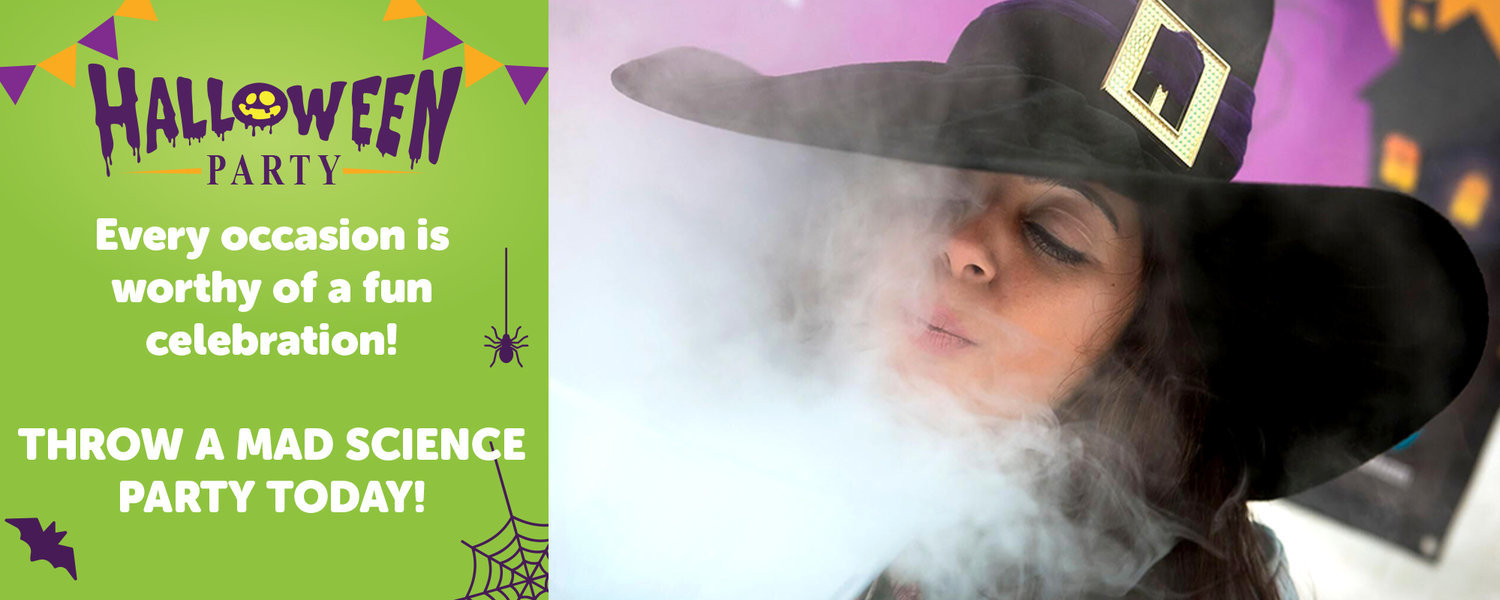 HALLOWEEN PARTIES/NEIGHBORHOOD SHOWS/TRICK OR TREAT BOOTHS
RESERVE YOURS TODAY
Celebrate the spooky season with a Halloween-themed science party or stage shows! Children of all ages will use science to figure out how to reverse a witch's spell on Count Eggbert. They will also experience creepy potions, a dry ice cemetery effect, ghostly bubbles and floating eyeballs that are sure to amaze everyone. Don't forget about our awesome Halloween themed slime that includes ghostly goo, witches brew, and pumpkin guts – which will you pick?
The best part about Mad Science Halloween parties Mad Science brings the spooky, fun, and mess and only leave behind the fun. Mad Science has packages to accommodate any budget and event type. This year, they even have a virtual option! Call (561) 747-3033 or visit https://palmbeachbroward.madscience.org/ for more information.
🎃 SPEWING JACK-O'-LANTERN REACTION EXPERIMENT 🎃
Check out the Spewing Jack-O'-Lantern Reaction experiment out on YouTube:
WHAT YOU WILL NEED:
Adult helper
A pumpkin (or a watermelon)
Tray
Marker
Cutting board
Knife
Spoon
Small cup
Aluminum foil
Baking soda, 60mL (¼ cup)
Liquid dish detergent
Food coloring
Vinegar, 240mL (1 cup)
Measuring cup
WHAT YOU DO:
Step 1: Have your adult helper cut off the top of your pumpkin. Use the spoon to remove all the pulp and seeds.
Step 2: Draw a face on the pumpkin.
Step 3: Have your adult helper use the knife to cut out the face you drew. It is now a jack-o'-lantern!
Step 4: Place the jack-o'-lantern on a tray. Place a piece of aluminum foil in the center of the jack-o'-lantern to make a wall. This is to keep the foamy reaction near the jack-o'-lantern's mouth.
Step 5: Fill the cup with about 60mL (¼ cup) of baking soda, add 6-7 drops of food coloring, and 3 drops of liquid dish detergent. Mix the ingredients with the spoon.
Step 6: Place the cup inside the jack-o'-lantern, in front of the aluminum foil wall. The cup should be slightly tilted towards the mouth opening.
Step 7: Pour 120mL (½ cup) vinegar into the cup. What happens?
Step 8: Add more vinegar to the leftover baking soda to continue the reaction.
WHAT'S GOING ON?
A chemical reaction occurs between the baking soda, which is a base, and the vinegar, which is an acid. This acid-base reaction produces carbon dioxide gas, which is the same kind of gas that is found in the air we breathe out. The dish detergent traps the carbon dioxide gas in bubbles. Eventually, the gas pressure creates enough foamy bubbles to force the liquid out of the cup. Placing this reaction inside the hollowed-out watermelon creates a spooky effect as the foam oozes out!
Mad Science is a sponsor of Macaroni Kid Stuart.