Thinking about fun and engaging activities for your children in the midst of COVID-19? 360 Gymnastics offers a great physical outlet for children packed with much needed fun during uncertain times like these. In addition to providing structure and normalcy to children's lives during this pandemic, gymnastics lessons help improve balance, coordination and strength, while boosting self-esteem and social skills.
360 Gymnastics takes pride in providing award winning classes and instruction for boys and girls, all ages and all levels. We specialize in preschool and school age gymnastics and have Stuarts only warped wall for our highly recommended ninja program. Give your kids something to get excited about and flip into fall at 360 Gymnastics!! Register for classes online or in-person, Our fall class schedule begins September 1, 2020, but we offer year round enrollment so you can start at any time!
Stay in the know about all things happening at 360 Gymnastics by liking/following us on Facebook and Instagram.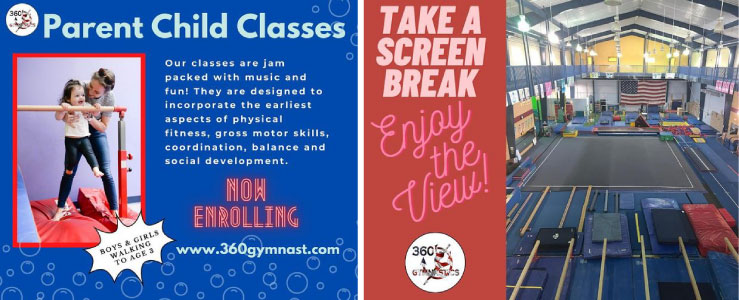 About 360 Gymnastics
The mission of 360 Gymnastics is to improve children's health and fitness through the sport of gymnastics in a fun and positive environment! For more information on our quality programs please go to our website at www.360gymnast.com or contact 360 Gymnastics at 772-221-0205 or by email at office360gym@gmail.com. We are conveniently located in the Wedgewood Commons shopping center on US1 and Indian street. 3210 SE Federal Highway #101, Stuart, Florida 34997.
360 Gymnastics is a sponsor of Macaroni Kid Stuart.