The Treasure Coast Chapter of the Association of Fundraising Professionals (AFP) is honoring community volunteers and philanthropists at a special in-person event in November to celebrate our Home Town Heroes.
National Philanthropy Day is celebrated in more than 500 locations across the United States, Canada and Mexico. The Treasure Coast Chapter has hosted its National Philanthropy Day celebration since 1995. Since its inception, nearly 200 outstanding groups and individuals from the Treasure Coast have joined the elite group of recipients. This year we continue to celebrate those in Martin, Okeechobee and St. Lucie Counties whose contributions make a significant impact in our community.
To honor its many donors and volunteers, the Treasure Coast Chapter has established the following recognition categories:
Individual Philanthropist
Volunteer Fundraiser
Corporate Philanthropist
Group or Foundation Supporting Philanthropy
Youth in Philanthropy
Unsung Hero
The Legacy Award
Nomination forms can be found online at: afptreasurecoast.org.
Nominations must be received by MIDNIGHT, Saturday, July 31, 2021 to be considered. All honorees will be celebrated and award recipients will be announced on November 18th. You do not have to be a member of AFP to nominate someone.
"Receiving the Outstanding Individual Philanthropist Award was both humbling and validating for me. I love my community so much, and although I've never sought accolades or awards, when this honor was presented to me, I was incredibly moved." State Representative Dana Trabulsy.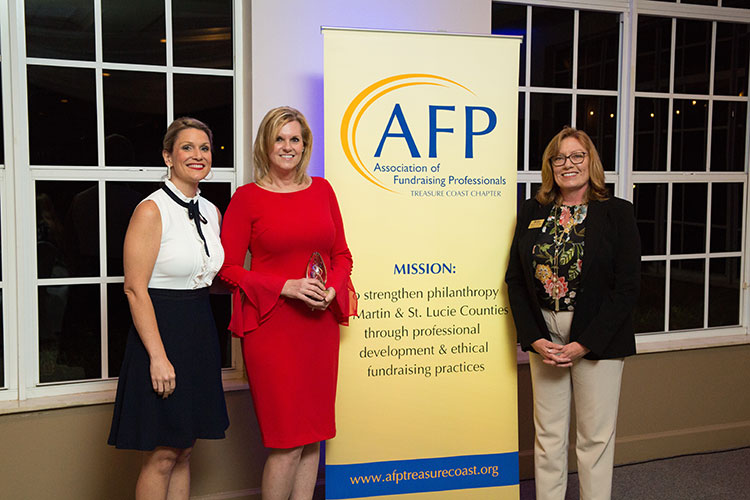 For information about the 2021 National Philanthropy Day celebration, the nomination process and/or sponsorship opportunities, please contact Elisabeth Glynn at 772-244-2212, NPD Co-Chair Keith Fletcher at 772-545-1255, or info@afptreasurecoast.org.
About the Treasure Coast Chapter of the Association of Fundraising Professionals (AFP)
The Treasure Coast Chapter of the Association of Fundraising Professionals (AFP) represents over 50 nonprofit organizations in Martin and St. Lucie Counties, FL. The chapter was chartered in October 1994 with the mission to strengthen philanthropy through professional development and ethical fundraising practices. Its membership consists of professional fundraisers who represent both large and small nonprofit organizations. Throughout the year, AFP Treasure Coast hosts webinars and educational luncheons for its members on topics, including the latest trends in fundraising, philanthropy and the general nonprofit sector. Scholarships to conferences, a job bank, and a study group are also membership benefits. For more information on the Treasure Coast Chapter, please visit www.afptreasurecoast.org or www.facebook.com/AFP-Treasure-Coast-124430447600379.