UPDATED March 30, 2020
On Friday, March 13, 2020, the Florida Department of Education (FDOE) issued a recommendation that all Florida school districts extend their Spring Breaks by adding one additional week in an effort to prevent the spread of Coronavirus (COVID-19). On Monday, March 30, 2020, FDOE issued an additional recommendation that schools remain closed through May 1, 2020. As such:
All schools operated by the Martin County School District will remain closed through May 1, 2020.
All school and District events, athletic contests, field trips and activities have been canceled through April 15. Information about events and activities scheduled after that date will be shared as it becomes available.
All statewide assessments have been canceled for the remainder of this school year.
During this time, the MCSD is committed to providing daily updates to students and parents that will address questions and concerns, as well as provide updates on the measures taken by staff to ensure that the District remains in compliance with all FDOE recommendations related to school closures.
Messages to Families from Instructional Services
The Martin County School District is using Google Classroom for virtual instruction. Please click here to view our instructional continuity (digital learning) plan.
Here is important information for you to know about your child's Google Classroom and digital citizenship:
When students are logging in each day, they must access ClassLink first, then Google Classroom. This is mandatory for attendance and record-keeping purposes.



If a student is using a District-issued laptop, they should click the "ClassLink" icon displayed on their device's home screen.


If they are using a personal device, they must visit martinschools.org and click the ClassLink icon on the homepage to access Google Classroom.



At this time, the video feature in the Google Classrooms has been disabled districtwide. Although lessons will be posted in Google Classrooms by 8:00 AM tomorrow, there will not be any live lessons presented on Tuesday, March 31. The MCSD is implementing a new video system that will be in place shortly and student instructions for joining the lessons will be included in Google Classrooms. Thank you for your understanding as we make this adjustment.


Student accounts, including Google Classroom and associated products, are NOT to be used for the following purposes:



Unauthorized personal communication that impedes instruction


Bullying or harassment of other students (FS1006.147; School Board Policy 5517.01 & 7540)


Sending inappropriate content or language


Students who violate any of these policies will face discipline as outlined in the Code of Student Conduct and - depending on the offense - potential legal repercussions



If you are experiencing any hardware (including damage) or software issues with your District-issued device, please email mcsdlaptops@martinschools.org for support.


Please continue to monitor the District's dedicated Coronavirus webpage at martinschools.org/coronavirusinfo for video tutorials, updates and current information about our digital instruction plan.
The Martin County School District implemented its digital instruction plan for students today. During this time, teachers will use the District's comprehensive collection of online content and digital resources to prepare lessons and activities that will be accessed by your child. Please click through the video links below to learn more about the platforms your child will use as part of the digital learning process.
ClassLink: Student Sign-in Process Using a District Device
ClassLink: Student Sign-in Process Using a Personal Device
ClassLink Information for Parents and Students
Google Account Sign-in Process for Students
How to Join Google Classroom
How to View and Submit Assignments Using Google Classroom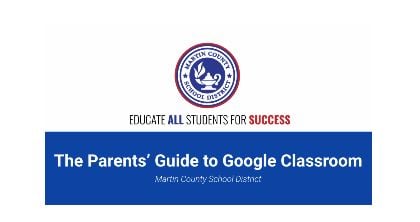 The Martin county Parent's Guide to Google Classroom
The Education Foundation of Martin County (EFMC) continues to partner with the Martin County School District to meet the needs of teachers. EFMC is currently fundraising and securing donations to purchase laptops for more than 200 MCSD teachers, which will assist them in being able to deliver digital lessons to students from their homes while schools are closed. To learn more or make a donation, please click here.


Technology Resources
Comcast has taken steps to implement the following new policies for the next 60 days:
Xfinity WiFi Free For Everyone: Xfinity WiFi hotspots across the country will be available to anyone who needs them for free – including non-Xfinity Internet subscribers. For a map of Xfinity WiFi hotspots, visit www.xfinity.com/wifi. Once at a hotspot, consumers should select the "xfinitywifi" network name in the list of available hotspots and then launch a browser.


Internet Essentials Free to New Customers: As announced yesterday, it's even easier for low-income families who live in a Comcast service area to sign-up for the Internet Essentials program. New customers will receive 60 days of complimentary Internet Essentials service, which is normally available to all qualified low-income households for $9.95/month. Additionally, for all new and existing Internet Essentials customers, the speed of the program's Internet service has been increased to 25 Mbps downstream and 3 Mbps upstream. That increase will go into effect for no additional fee and it will become the new base speed for the program going forward. Learn more. . .
Educational Resources for Families
Khan Academy has compiled great daily learning schedules for students to use when school is not in session. These lessons and resources (including AP and SAT test prep) are 100% free. Schedules are broken up by age group and include time for meals and play/leisure. Click here to learn more.
The Florida Department of Education's CPALMS virtual student center is a great online learning resource. Browse tutorials and other resources broken up by grade and subject level at floridastudents.org.
PBS Kids has started a weekday newsletter that offers activities and tips parents can use to help children play and learn at home. Click here to sign up.
Community Health
A local state of emergency has been declared.
Cleveland Clinic Martin Health is now performing drive-through testing at Martin North Hospital for influenza and COVID-19 by appointment only.
Testing will only be performed for individuals who meet Florida Department of Health criteria for COVID-19. If individuals do not meet criteria, testing will not be performed.
For an appointment, individuals who may have symptoms must call 772-419-3360, between 8:00 AM and 5:00 PM. For additional information about Cleveland Clinic Martin Health drive-through testing for COVID-19, visit martinhealth.org.
United Way Resources
To assist Martin County individuals and families who are impacted by COVID-19, United Way of Martin County is launching the COVID-19 Community Economic Relief Fund and has authorized up to $200,000 from our emergency fund to aid in recovery efforts. We are working with local direct service organizations to disseminate emergency funds with the appropriate sense of urgency.
If you need help:
If you are unable to meet basic needs like housing, food and healthcare, please reach out to the following partners who we will be working with to distribute funds to individuals and families in need:
House of Hope: 772-286-4673
Salvation Army of Martin County: 772-288-1471
If you can help:
We anticipate the need to gather significantly more funding to assist Martin County residents and are seeking additional contributions. 100% of donations will go toward the relief funds – no administrative fees will be taken.
As with the prior emergency funds managed by United Way, safeguards will be put in place to ensure these funds are used effectively and appropriately. Organizations receiving grants will be required to report back on use of the monies granted. Learn more and contribute.
Other resources:
The 211 Helpline is available 24/7 to connect you with resources for food, mental health, legal support and more. Those in need of help can dial 2-1-1, (561) 383-1112, or text their zip code to TXT211 (898211). 2-1-1 service is free, confidential and 24/7.
Please be reminded that the District has a dedicated Coronavirus (COVID-19) webpage at martinschools.org/coronavirusinfo. Families are encouraged to visit this webpage to ensure they continue to receive the latest information as it becomes available. Employees should watch for additional communication about work schedules and return to work from their site supervisor. Students, parents or employees are encouraged to email MCSDNews@martinschools.org with any questions they have about procedures or access to resources.
The health and safety of our students and employees continues to be our top priority. Please continue to follow all recommendations issued by the CDC and Florida Department of Health to help prevent the spread of illness.