Do your kids need another toy this holiday? Why not go with an experience they will remember for years – Mad Science. They are experts at making long-lasting memories from their after school programs and birthday parties to their camps and special events.
Kick-off the year with nonstop fun at their Winter Break Camps. Each day of camp your kids participate in hands-on experiments, build fun take homes and exciting projects, plus make new friends and memories. Go one day or multiple days since each day is a different topic. Open to kids in Kindergarten to fifth grade, camps are $65 per day and run from 9:00 AM to 3:00 PM at the Jupiter Mad Science Lab, 401 Maplewood Dr., #2, Jupiter FL 33458.
Winter Schedule
December 30, 2019: Winter Wonder Day - Snow in Florida? Only when you have science on your side. There is a cold front hitting the lab making it perfect for Dry Ice experiments, making snowballs with fake snow and of course, we will need a little heat to warm us back up and get our molecules moving. Brrrr. . . are you ready to explore the cold?
December 31, 2019: ZAP: Electricity - Explore the world of electricity from the simplistic to complex with hands-on experiments sure to "electrify" any junior scientist. Play with static electricity, explore a Tesla coil with your Mad Scientist, experience the hair standing fun of the Van DeGraff Machine and complete simple and complex circuits plus much more this day.
January 2, 2020: Prehistoric Day - Here is your chance to explore the world of dinosaurs. You will dig for bones, compare dinosaurs, make your own T-Rex tooth and more as you tap into your inner paleontologist. You will even explore the world of rocks and volcanoes during this fun hands-on camp.
January 3, 2020: Birds and The Beasts - Become an ornithologist and discover the unique characteristics of birds. Investigate feathers to see how birds fly and gain an understanding of why birds fly south for the winter. Build your own birdhouse and dissect owl pellets. Then study other animals from small and large to compare what makes them unique.
January 6, 2020: CSI Day - Get ready to explore the world of Detective Science. Learn about fingerprinting, how accurate an eye witness can or can't be, collect evidence to help solve a mystery, plus much more as you dive into a plethora of evidence and solve a mystery together.
Register Online at Mad Science Winter Break Camp.
Also, don't miss out on their gift certificate special this season. They will be offering a 15% discount on all gift certificates which can be used for future birthday parties, camps and after school programs.
Gift Certificates can be purchased in person at the Mad Science Lab in Jupiter or by calling 561-747-3033.
Science Fun at Home!
FREEZE FISHING




What you will need


Ice cube
Salt
String, about 15cm (6") long
Plate

What you do:

Step 1: Wet an ice cube and put it on the plate.

Step 2: Wet the string and place it across the top of the ice cube.

Step 3: Sprinkle a little bit of salt on top of the ice cube and the string.


Step 4: Count to five and lift the loose end of the string. The ice cube should come with it!
What's going on?
When salt is added to water, it lowers its temperature. Sometimes you will see salt being put on icy roads. The salt helps the ice on the road melt because it drops the freezing point of the water. The string absorbs water and there is water on the surface of the ice cube because you rinsed it. If you add salt, it causes the water to re-freeze on the ice cube.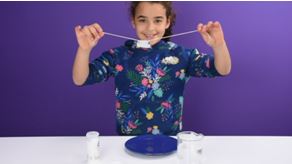 Now try this: Try this experiment with other types of string such as shoelaces or sewing thread. Is there a difference? Which one lets you lift the ice cube the highest off the plate?
Mad Science is a proud sponsor of Macaroni Kid Stuart.