Article first appeared in the Bilingual Key Therapy Blog, January 13, 2018.
In my home we know the importance of stimulating our culture, language and traditions, a concept that is sown in our roots because we are emigrants. Here we want to share the 10 ways my daughter treasured love, traditions, and language over the holidays a couple of years ago.
In the U.S., not only adults lead a busy life, but children from a young age also have their days overloaded with many activities. Sometimes the lack of time makes it difficult to insert one more task without altering the routines of others.
It is very common that something as simple as sharing a movie in our language or cooking together a typical meal over the weekend, becomes a titanic task in a home with children committed to their own routines.
We need to be wise at deciding what we do with our families if we want to introduce our children to our culture and language. A couple of years ago my youngest daughter wanted to meet the family that lives across the sea, just a few 80 miles away. She was very motivated to meet her grandmother, aunts and cousins, so we took her motivation as an opportunity to combine entertainment, traditions, and language.
While the adults anticipated some fun with the family, unforeseen situations and many difficulties, our little girl dedicated herself to treasuring love, culture and traditions in her second language in ten very different ways.
10 Ways in Which My 11-Year Old Daughter Treasured
Love, Culture, Traditions, and Language During the Holidays in Cuba
1. Hugs from family are not negotiable.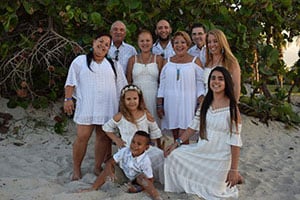 Don't we all look amazing in this happy family photo? My daughter learned that after all, in a family it is the unit that marks beauty.
Many circumstances in life make us emigrate. One of the many risks we take when we decide to live in another country is to raise our children away from that much needed part of the family such as grandparents, ants, uncles and cousins.
2. Life is covered in colors, joy, sun and tar.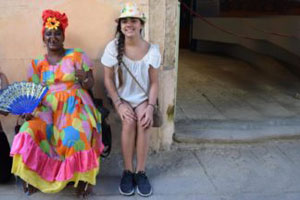 Old Havana
It is true that everyone chooses to see life in a different way, but the one who prefers to observe it through the lens of optimism is more likely to enjoy the little moments that brighten the soul.
My daughter knew the culture that drives hope. She learned that the Cuban blood that runs through her veins decides to use the lens of enthusiasm to clothe life with colors, joy, smiles, street cries, domino games at street corners, paper fans that mitigate the heat, and the smell of that tobacco that has become a favorite around the world.
3. Popping the boring bubble.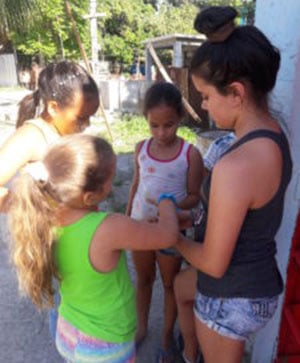 My husband warned her: "In Cuba, people do not have a bubble." We imagined what interaction with cousins could be like, but we never thought about her being outside exposed to other adults and kids. It must be because we are already very used to live within our own boring bubble around us all day long.
Over there, children look at you to explore you, they pull you by the arm to invite you to play, see something or introduce a topic of conversation, they examine your hair and clothes, they kiss your cheek to say hello and goodbye, they mix their sweat when they play, they get dirty. In short, they exalt the natural form of human interaction.
Have you ever seen your children doing cart wheels in the street at 3 o'çlock in the morning? Making friends in the neighborhood happened instantly. In less time than expected, she was already inserted, without her bubble, playing on the street (with supervision of course) with all the freedom we used to have in the past to play in the neighborhood streets until late at night. In what language did she communicate with them? Always in Spanish.
4. Speaking Spanish because the stage was set up.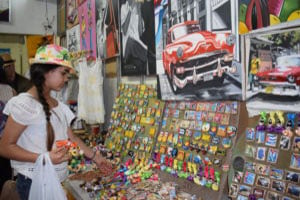 Old Havana
When my daughter was born immediately we decided that she was going to be bilingual. All the communication within the house as well as the games to stimulate the language were in Spanish. However, when school started at age 5, what we all expected happened, English began to take hold and Spanish was left behind as a secondary language.
She has understood the importance of her second language. She respects it and values it in all aspects that we have instilled in her. So the idea of traveling to a country where people only speak Spanish was very motivating for her. She took it as a personal challenge and passed the test.
When did she really surprise us? She spoke Spanish since she stepped foot on Cuban soil. She communicated only in Spanish even when she was alone with us at the hotel or in the taxi. Setting the arena to practice the language worked very well.
5. Sharing a bit of happiness.

My husband had a great idea. In addition to material gifts and hugs, he wanted to do something special to bring joy, smiles and surprises. Our girls were in charge of collaborating with his project and we all helped with his Great Magic Show.
We had thought of a modest moment just for the family, but in the blink of an eye, we already had a makeshift stage, benches for the public and a lot of curious and anxious little neighbors who wanted to know what will happen in the backyard of their friends' house.
My daughter lived the same happiness that all children (and adults) could feel in those moments. All the problems disappeared for a couple of hours to make way for the magic of the hat and the lights. She understood that giving away unforgettable moments is something that is not spent as material things, but are pieces of joy that are stored forever in the memory.
6. The roasted pork does not taste the same . . . the one from there is always BETTER!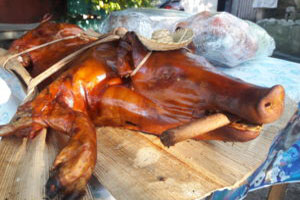 Dinner on Christmas Eve with the family is a tradition that most people in Cuba do not associate with religious reasons. You just have to meet with your family to eat the piglet with congrí, yucca, salad and any dessert that you want to stick to the celebration. For our girl, this typical food was a delight to her taste.
The funny piglet was also the target for all camera shots.
7. Who said beach on an island?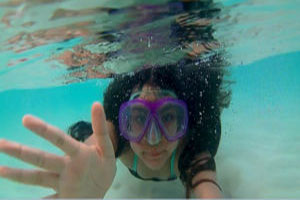 Varadero Beach
Visiting an island in the Caribbean goes hand in hand with going to the beach. White sands, Sun and Sea, are the perfect combination to enjoy the turquoise waters of Varadero beach of in the province of Matanzas.
Although she has enjoyed the ocean before, this was her first time on a beach where you can walk more than a block and the warm, crystal clear water still reaches your knees like in a pool. It was also the first time she splashed in the sea at night. Yes! At night it is also safe to swim on this beach. We love doing this!
8. You don't stir the sugar in the coffee with a spoon.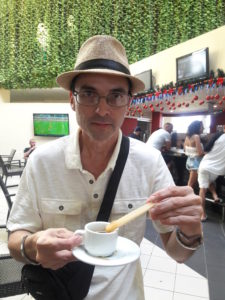 Very strong coffee and a lot of sugar, that's our Cuban coffee known as "La Coladita". Our daughter must have thought that nobody here counts the extra calories. Coffee at all hours with no excuses to make smoke with the Habanos. It's not very healthy, but that's the way it is when it comes to Cuban customs. . .
That way she learned that Cuba is a sugar producing country. They illustrated it with a piece of cane to stir the sugar in the coffee. This idea was very clever to all of us. You use it as a spoon and then you can eat it. ¡AZÚCAR!
9. Learning about our special flora: The royal palm tree.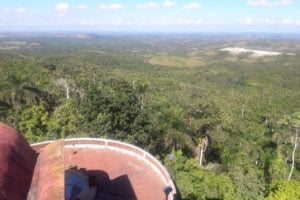 Escaleras de Jaruco, El Árabe
As in any other place in the world, here she also found abandoned places and lived the nostalgia of those who once visited the Parque Escaleras de Jaruco. However, they served as a window to her eyes to see the typical Cuban landscapes, accompanied by our royal palm trees waving under the sun as the perfect couple.
10. A bit of countryside for sure is fun.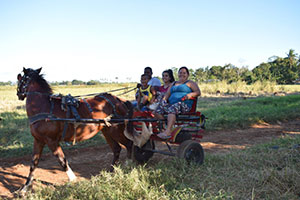 Bainoa, Mayabeque
Not far from Havana, we visited country places that combined with the warm welcome of the relatives who live there, gave our girl a very special stay for a few hours.
By riding a horse and a horse cart, snooping the life of rabbits, chickens, pigs, rams, and painting her shoes with the same red soil that grows crops, my daughter breathed another dimension of life.
This country, rich in hospitality and abundant in traditions, provided our daughter with unforgettable experiences that have served to enliven the family's warmth as well as to increase the cultural and linguistic treasures that will accompany her the rest of her life.
She made her dream of visiting Cuba come true and there she met with family love. She hugged her grandmother, aunts, and cousins for the first time. She learned about their culture and traditions, tasted their meals, spoke their language, played in the street and splashed in the most beautiful beach in the world.
Our little girl had an unforgettable time and enjoyed different places making life in the city, the country, and the ocean. She returned home with a backpack full of memories, values, and joys. At the end she asked me: Mom, when are we coming back?
God bless us all and continue to unite us in love and peace because the Family is Forever.
Now our daughter is aware that the way she lives is not the only way that exists.
Looking for a bilingual speech therapist or a bilingual occupational therapist for your child? CONTACT US Today at Bilingual Key Therapy for a FREE consultation or screening.
Bilingual Key Therapy is a proud sponsor of Macaroni Kid Stuart.