Wondering what to do with the kids on those no school days? Mad Science of Palm Beach has the solution! Our No School Day Camps located at our Jupiter Lab offer fun, hands-on activities that will keep your children engaged, learning and sparking their love for Science. Each day has a different topic so the fun never stops.
All Camps run daily from 9:00 AM to 3:00 PM at our Lab, 401 Maplewood Drive, #2, Jupiter (33458), and are open to children in Kindergarten to 5th grade.
Our October and November dates include October 9, 2019 and October 18th and November 11th. We offer easy online registration by visiting https://palmbeachbroward.madscience.org/parents-register-c.aspx or calling 561-747-3033.
Future Chemistry Kids - October 9, 2019 - Find out in this camp all about cool chemistry. We'll explore the basics of chemistry with some radical reactions and slippery slime! Children will learn about molecules, chemical and physical reaction and so much more.
Space Exploration - October 18, 2019 - Grab your helmet and get ready to explore our solar system and beyond. Learn all about planets, moons, stars and space phenomena. We will even talk about some of the steps we take to live in space today and into the future!
Ooey Gooey Slime Day - November 11, 2019 - From Slime to Putty, children will investigate sticky science with fellow junior scientist. They'll combine polymers, study matter and test formulas to find the best sticky substance and have them compete in the polymer Olympics. Best of all. . .the slime and putty they make is theirs to keep!
Don't forget we don't only host camps in the Lab. Drop-in on Mondays from 10:00 AM to 11:00 AM for our fun Homeschool STEM Labs. Each week is a different topic.
Have a mini Pre-K Mad Scientist? Then our monthly Preschool STEM Lab the first Wednesday of the month from 9:30 AM to 10:00 AM might is the perfect fit.
SPEWING JACK-O'-LANTERN REACTION EXPERIMENT

Check out our Spewing Jack-O'-Lantern Reaction experiment out on YouTube:
WHAT YOU WILL NEED
Adult helper
A pumpkin (or a watermelon)
Tray
Marker
Cutting board
Knife
Spoon
Small cup
Aluminum foil
Baking soda, 60mL (¼ cup)
Liquid dish detergent
Food coloring
Vinegar, 240mL (1 cup)
Measuring cup
WHAT YOU DO
Step 1: Have your adult helper cut off the top of your pumpkin. Use the spoon to remove all the pulp and seeds.
Step 2: Draw a face on the pumpkin.
Step 3: Have your adult helper use the knife to cut out the face you drew. It is now a jack-o'-lantern!
Step 4: Place the jack-o'-lantern on a tray. Place a piece of aluminum foil in the center of the jack-o'-lantern to make a wall. This is to keep the foamy reaction near the jack-o'-lantern's mouth.
Step 5: Fill the cup with about 60mL (¼ cup) of baking soda, add 6-7 drops of food coloring, and 3 drops of liquid dish detergent. Mix the ingredients with the spoon.
Step 6: Place the cup inside the jack-o'-lantern, in front of the aluminum foil wall. The cup should be slightly tilted towards the mouth opening.
Step 7: Pour 120mL (½ cup) vinegar into the cup. What happens?
Step 8: Add more vinegar to the leftover baking soda to continue the reaction.
WHAT'S GOING ON?
A chemical reaction occurs between the baking soda, which is a base, and the vinegar, which is an acid. This acid-base reaction produces carbon dioxide gas, which is the same kind of gas that is found in the air we breathe out. The dish detergent traps the carbon dioxide gas in bubbles. Eventually, the gas pressure creates enough foamy bubbles to force the liquid out of the cup. Placing this reaction inside the hollowed-out watermelon creates a spooky effect as the foam oozes out!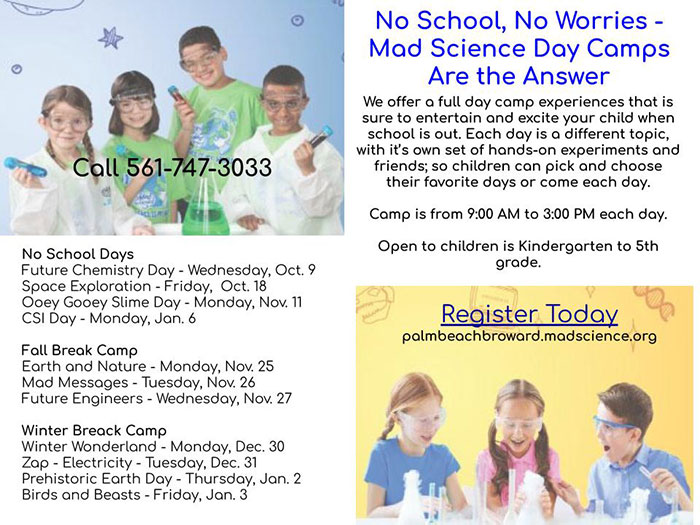 Mad Science of Palm Beach is a proud sponsor of Macaroni Kid Stuart